About Veolia
Veolia group aims to be the benchmark company for ecological transformation. With nearly 179,000 employees worldwide, the Group designs and provides game-changing solutions that are both useful and practical for water, waste and energy management. Through its three complementary business activities, Veolia helps to develop access to resources, preserve available resources, and replenish them.
 
In 2020, the Veolia group supplied 95 million people with drinking water and 62 million people with wastewater service, produced nearly 43 million megawatt hours of energy and treated 47 million metric tons of waste. Veolia Environnement (listed on Paris Euronext: VIE) recorded consolidated revenue of €26.010 billion in 2020. www.veolia.com

 
About Veolia Nuclear Solutions
Veolia Nuclear Solutions includes the most comprehensive range of technologies and services for facility restoration, decommissioning of plants, and the treatment of radioactive waste, all nurtured by our nuclear experts and backed by thousands of Veolia staff worldwide.
Veolia is the only company to offer complete solutions in characterization, treatment and stabilization to operators in the nuclear sector and related activities, thereby meeting the environmental challenges that future generations will face.
We offer a broad range of expertise in the nuclear and environmental sectors, unique technological solutions, world-class experience in complex operations, risk mitigation and management discipline. We do this through a dedicated commitment to performance and safety worldwide.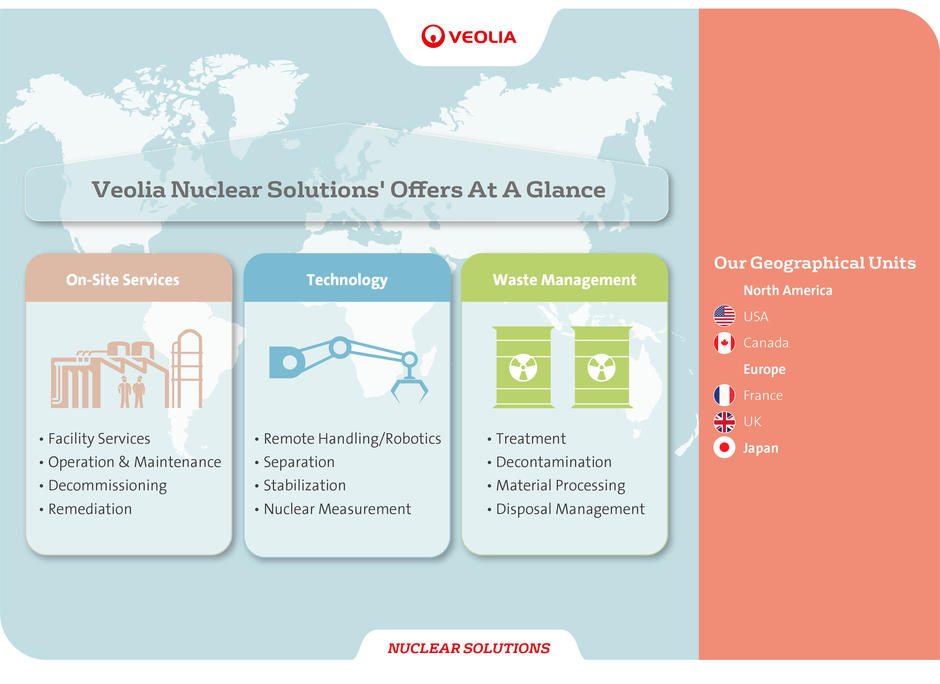 In becoming the benchmark company for ecological transformation, Veolia is committing to accelerating and expanding the deployment of existing solutions, while simultaneously creating the solutions of tomorrow. We are moving forward hand-in-hand with our stakeholders, convinced that economic, social and environmental challenges must form an indivisible whole.
Veolia Nuclear Solutions is located in France, in the U.S, in Canada, in the UK and in Japan. Our experts support the biggest names in the sector in their decontamination, dismantling, waste treatment or facility management projects around the world.